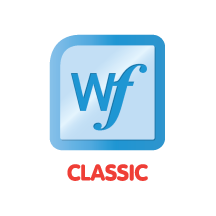 Join the world's largest community of translators.
Register now →
(It's free.)

Join the world's largest community of translators.

Join ProZ.com →
Wordfast Classic
4.6

out of

5



THE BEST TRANSLATION MEMORY SOLUTION FOR MICROSOFT WORD Wordfast Classic (WFC) integrates with Microsoft Word to create a powerful translation memory tool that is quick to learn and easy to use. Discover why thousands of freelance translators worldwide rely on Wordfast Classic as their TM tool of choice.





Price
$460
File formats
Microsoft Word
License type
3-year license
System requirements

Operating system
Windows XP, Mac OS 7, 8, 9, OSX 10.3.4 and higher , Windows 95, 98, ME, NT & 2000, Windows 8, Windows Vista, Windows 10, Windows 7, Linux
System requirements

MS Word (PC): MS Word 2000 and higher* 
MS Word (Mac): MS Word 2011 or 2019

Compatibility
Requires Microsoft Word
Support & upgrades

| | |
| --- | --- |
| Support and upgrades offered/included | Free technical support via support ticket center, Free community support, Free upgrades for duration of license/Subscription, Installation support |
| Support and tutorial links | Online support center |

30 days

| | |
| --- | --- |
| Free trial | Work in the demo version free forever. License required once you reach 500 translated sentences per translation memory. |

Languages supported
Wordfast Classic supports any language that is supported by Microsoft Word. This includes Eastern European, Cyrillic, Asian, Right-to-Left, and various other languages.





Side-by-side comparison of this tool with others from the "CAT tools" category:




(2 reviews)

(24 reviews)
(32 reviews)
Compare more than two tools at once →
How easy is it to learn?
User friendly and good value for money.
Review by
Clive Phillips
Been using Wordfast Classic for Word source texts since 2009. Has become an 'old friend'. Easy to use. I don't use full functionality, due to my limitations! Represents good value for money, compared with SDL Trados.
14
out of
15
found this review helpful.
---
How easy is it to learn?
A workhorse tool for MS-Word
Review by
John Di Rico
.
I started using WF Classic in 2005 because of its excellent customer support and responsiveness to translator needs. The tool continues to be developed though I use it less today since I switched to a Mac. However, if you are primarily translating Word docs on a PC, I would recommend this tool.
10
out of
10
found this review helpful.
---
How easy is it to learn?
Does what it does very well and without undue fuss
Review by
Sheila Wilson
.
I'm quite aware that I don't use this tool to the full; I'm also aware that I'd probably fail to master its main competitor at all. For Word and Excel files (I don't work with PPT), Wordfast Classic is perfectly adequate for assuring consistent use of terminology, leveraging past work, and ensuring that, in your haste, you never overlook a sentence etc.
10
out of
10
found this review helpful.
---
How easy is it to learn?
Simple, yet full of features
Review by
Graciela Carlyle
.
I've been using Wordfast Classic for over 10 years.
It's the perfect translation tool for the Word environment and the support is great.
Simple to use but full of features that can be used as needs arise.


8
out of
8
found this review helpful.
---
Can start using it fast, but better if you invest time in learning more.
Review by
ProtransEMS
I've used Wordfast for more than ten years and it has helped me to provide consistent translations.
9
out of
11
found this review helpful.
---